The Natural Park of Cabo de Gata is particularly loved for the beauty of its untouched beaches, most of them located outside of cities and protected against construction. There are also a few lovely beaches in the different villages that offer amenities such as showers, restaurants, bars… (Carboneras, Agua Amargua, Las Negras, San Jose, Mojacar). Even in high season, it is possible to find quiet beaches where you will have some privacy. Here are the most famous ones:
Playa de los Muertos
Continually acclaimed one of the most beautiful beaches in Spain by various guides and magazines, you can access it only by foot, approximately 15 minutes walking.
Playa de los Genoveses
Elected 3rd most beautiful beach in Spain by National Geographic in 2019.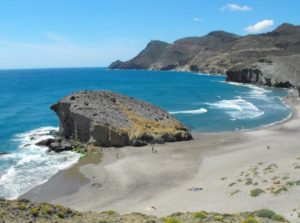 Playa de Monsul
Next to Genoveses, its famous rock formation appears in numerous movies, including Indiana Jones.
Playa del Playazo
Located in the beautiful town of Rodalquilar, its uniqueness comes from the contrast of its black and white rocks. It offers natural pools (bring shoes to climb the rocks) and 2 beaches of fine golden sand. A fortress dominates the beach.
Cala San Pedro
In the middle of nature, it is only accessible walking from Las Negras (2km walking), or by boat.
The fine and white sand there makes the water look turquoise blue. A hippie community lives near the beach because it has a natural source of fresh water.
The atmosphere of this beach is particularly friendly and based on respect of others. It is not a nude beach, but in like many other wild beaches of the region, nudists naturally mix with swimsuit wearing guests. You can also find there a nice little bar